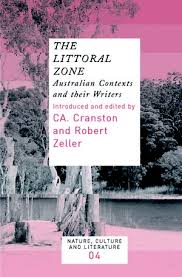 The Littoral Zone: Australian Contexts and their Writers (Ecocriticism).
CA. Cranston & Robert Zeller (editors and contributors). The first Australian collection of ecocritical essays. Features Australian environments—deserts, mountains, beaches, indigeneous, islands, Antarctica—by Australian and US scholars, including Bruce Bennett, Tony Hughes-d'Aeth, Mitchell Rolls, Mark Tredinnick, Veronica Brady, Kate Rigby, Ruth Blair, Elizabeth Leane, Tom Lynch, CA. Cranston, Robert Zeller.
Sample reviews of The Littoral Zone:
Libby Robin, (Review Essay) Ecohumanities Corner Issue 42, Aug 2007
Cheryl Taylor, 'The Littoral Zone' JASAL Vol. 8, 2008
Helen Tiffin, 'Green or Greed?' Australian Literary Studies, Vol. 25, no. 2, 2010
Caitlin Maling, (Review Essay) 'Planting Roots: A Survey of Introductions to Ecopoetry and Ecocriticism' The Cordite Poetry Review (2013).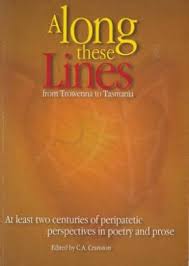 Along these Lines: From Trowenna to Tasmania. At least two centuries of peripatetic perspectives in poetry and prose.
(Launceston: Cornford Press), 2000.
Edited, Introduced, and Compiled by CA. Cranston.

Seminal in introducing indigenous place names alongside settler constructions. Historical, geographical, and literary place-based anthology tracing Trowunna / Loutrouwitter (Bruny) / Van Diemen's Land / Tasmania, across the genres. Includes poetry and prose extracts from First Nation people, migrants, settlers, and visitors to the island, including Charles Darwin & Germaine Greer, and ex-pats such as Errol Flynn. "A remarkable annotated anthology" (Dunning, The Kaleidoscope of Launceston, 2018).
Sample reviews of Along these Lines:
The Ample Isle Ken L. Goodwin , Australian Book Review , July no. 232 2001; (p. 57-58)
"Fair Virgin of the South…" Donald Pulford , Overland , Summer no. 165 2001; (p. 108-109)
Of History and Geography Robert Zeller , Antipodes , December vol. 14 no. 2 2000; (p. 177)
[Untitled] Tony Rayner , Famous Reporter , December no. 22 2000; (p. 10-12)
[Untitled] Helen Horton , Imago : New Writing , vol. 12 no. 3 2000; (p. 121-122)
Storied Isle Robert Cox , Island , Spring/Summer no. 84 2000-2001; (p. 106-108)